Café

Muse (http://www.cafemusela.com/)

Location: 6547 Santa Monica Blvd. Los Angeles, CA 90038

Time: 11am PST. (Breakfast)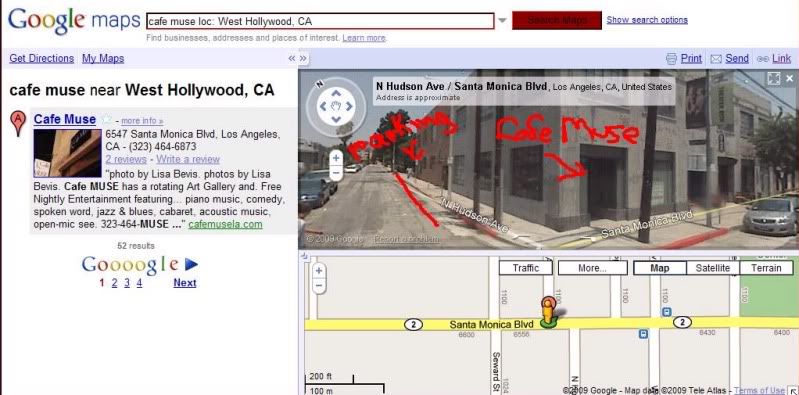 Anita's Vegan Dish
Drink: Soy Latte, Double... $3.50
Entre
: Vegan pancakes - "whole-wheat pancakes made with
soymilk
, served with maple
syrup and nondairy butter"… $7.95
Grade: B+
Comment: The pancakes were cooked perfectly (quadruple stacked) and the nondairy butter added a "melt in your mouth" touch. If you're in the mood for simplicity and pancake bliss, I would recommend this dish 100%!
Kristy's Vegetarian Dish
Drink: Water
Entre
: MAKE-YOUR-OWN VEGGIE BREAKFAST BURRITO. Whole-wheat tortilla, eggs, jack cheese, fake ham, tomato and mushrooms with sweet-potato hash browns... $7.95
Grade: A
Comment: The sweet-potato hash browns were a perfect twist the traditional breakfast item. The burrito was a great combination and the "make your own" option was great as I got to pick out exactly what I wanted on my burrito. I would go back for more
any day
!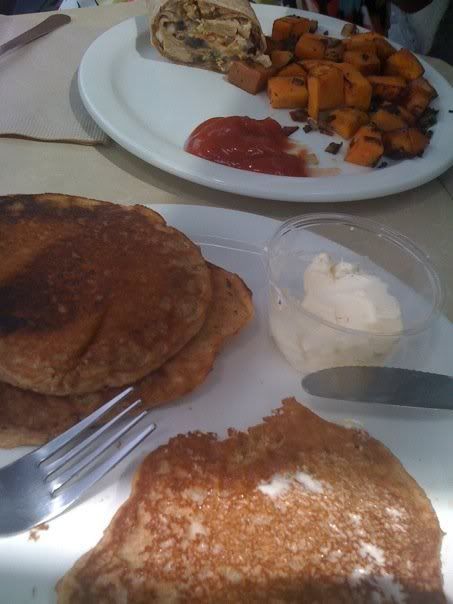 Kristy and I were in the mood for some delicious veggie food on Saturday and decided to try this veggie restaurant which I was introduced to through the show
The Hills
this past season. Located on Santa Monica in a remotely quiet section, Cafe Muse is your quaint traditional neighborhood restaurant offering a variety of food (Breakfast, lunch, and dinner) and a comforting touch (you order and pay at the front counter and they bring you your food - Self Service the friendly way!). With indoor and outdoor seating (we chose outdoor), Cafe Muse is perfect for intimate settings with a close friend or partner.