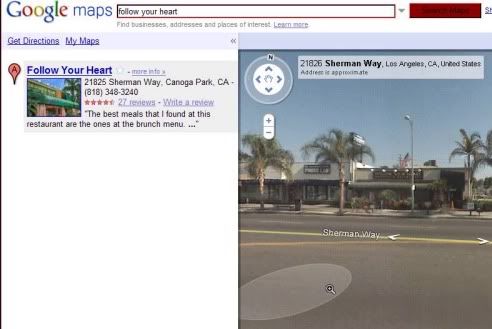 Anita's Vegan Dish (no pictures - ate it too fast!)
Drink: Fresh brewed coffee with soymilk
Entre: French Toast… $5.50 (half order was sufficient)
Thick Sliced Whole Wheat Bread Dipped in Our Own Special Non-Egg, Non-Dairy Batter. Topped with Pecans.
Vegetarian Sausages… $4.25
Grade: A (for the French Toast), B (for the sausages)
Comment: The French Toast was perfect. I have not had any since I went Vegan so it was such a refreshing taste and their maple syrup and pecans made for a great addition to the entre. I was not a fan of the sausages but I do not believe they are made in the Café rather they are Smart Links Breakfast Links because they taste identical. They both have the flavorless taste to them although with the sweet French Toast it wasn't a horrible combination to be honest (I never was a fan of "real" sausage anyway). I would probably order the same thing again.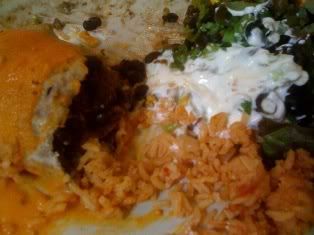 Kristy's Vegetarian Dish

Entre: Breakfast Burrito… $8.95
Scrambled Tofu, Black Beans and Vegetarian 'Chorizo', Wrapped in an Oversized Whole Wheat Tortilla. Served with Spanish Rice, Guacamole and Sour Cream.
Grade: A+
Comment: Kristy is a huge fan of this breakfast burrito as she always loved chorizo and eggs for breakfast but had not known of this vegetarian substitution until recent. This is the dish that she craves in the morning all the time and from Follow Your Heart in specific. She said the tofu that replaced the eggs in the burrito feel almost equivalent to the eggs that usually accompany the entre. The black beans are great as well. This burrito is filling in size and taste!
Since, Kristy and I are both from West Hills this friendly neighborhood Café has always been a favorite for us to go on quick lunch or dinner dates. However, I had never had the chance to check out the breakfast menu and I'm really glad I did as I will probably be reviewing many more dishes of theirs now! The greatest part about the cafe is that almost every item on the menu is "Vegan" optional so they can transform any Vegetarian plate for Vegans. Follow Your Heart has convenient parking right next door to the Market & Café and it's a great place to go if you need to grab a few groceries on your way out (since you pay your Café bill with the market cashiers on your way out instead of your waiter). Follow your heart to delicious food and make sure to grab a jar of their award winning Vegenaise (Vegan mayonnaise substitute)!